Clara, 2, South Toowoomba.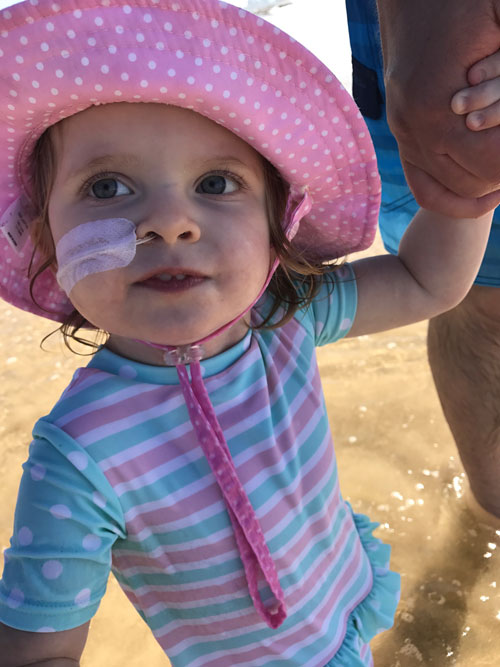 When Rachael was 19 weeks pregnant she discovered their unborn baby had a heart condition which cardiologists later diagnosed as Pulmonary Atresia with Ventricular Septal Defect. Before Clara was born her family relocated to Brisbane and spent time preparing for what was ahead for them including understanding that they would have limited cuddle time with her initially. 
Clara was born prematurely (37 weeks) and at three weeks she underwent the first of many procedures on her tiny heart. She underwent two surgeries to have a stent inserted - the first through femoral artery and when this was unsuccessful and she had a second attempt next day through carotid artery. Not long after this Clara developed an occlusive clot in left femoral artery and an MRI revealed she had also suffered two strokes.
At six weeks of age, after an emotional rollercoaster, the family were allowed to take Clara home at six weeks of age. The next 12 months involved a series of medication, monitoring weight and oxygen levels, injections, visits to hospital both in Toowoomba and Brisbane, numerous echocardiographs, blood tests and ultrasounds, however there were more challenges ahead for this family.
When Clara was just one she underwent open heart surgery to repair the defect in her heart. After the operation her condition deteriorated rapidly and she was placed on an ECMO machine to support her tiny heart.
"Clara was on ECMO for five days, which gave her heart time to rest and recover following surgery, without ECMO, there is no doubt in our minds that Clara would not have survived. Seeing her on ECMO was quite shocking but at the same time a sense of relief that she was still alive. 
"Clara is due to have surgery to have a percutaneous endoscopic gastrostomy (PEG) feeding tube inserted but will not need heart surgery now until she is at least six. Then she will require surgery every 15 years or so to replace the pulmonary valve.
"Clara is very anxious around health care professionals and this can make appointments stressful, even just being weighed and she has trouble feeding orally due to a significant oral aversion. However, on a day-to-day basis, she copes well with her situation and tends to be happy-go-lucky and a bit of a daredevil.
"At the moment Clara loves the Wiggles, singing and dancing to their music, making noise with her recorder, drums and xylophone. She enjoys drawing, reading, playing with toys and riding her toy car and of course playing with her big brother, Lindsey. When Clara was in PICU Lindsey was the only one who could get her giggling as she recovered," Rachael said.
Patient stories
Select a patient below to read their story.